Quarterly Connection August 2020
EDUCATE. CONNECT. PROTECT.
Our mission is to protect coastal habitats through educating and connecting people with the environment.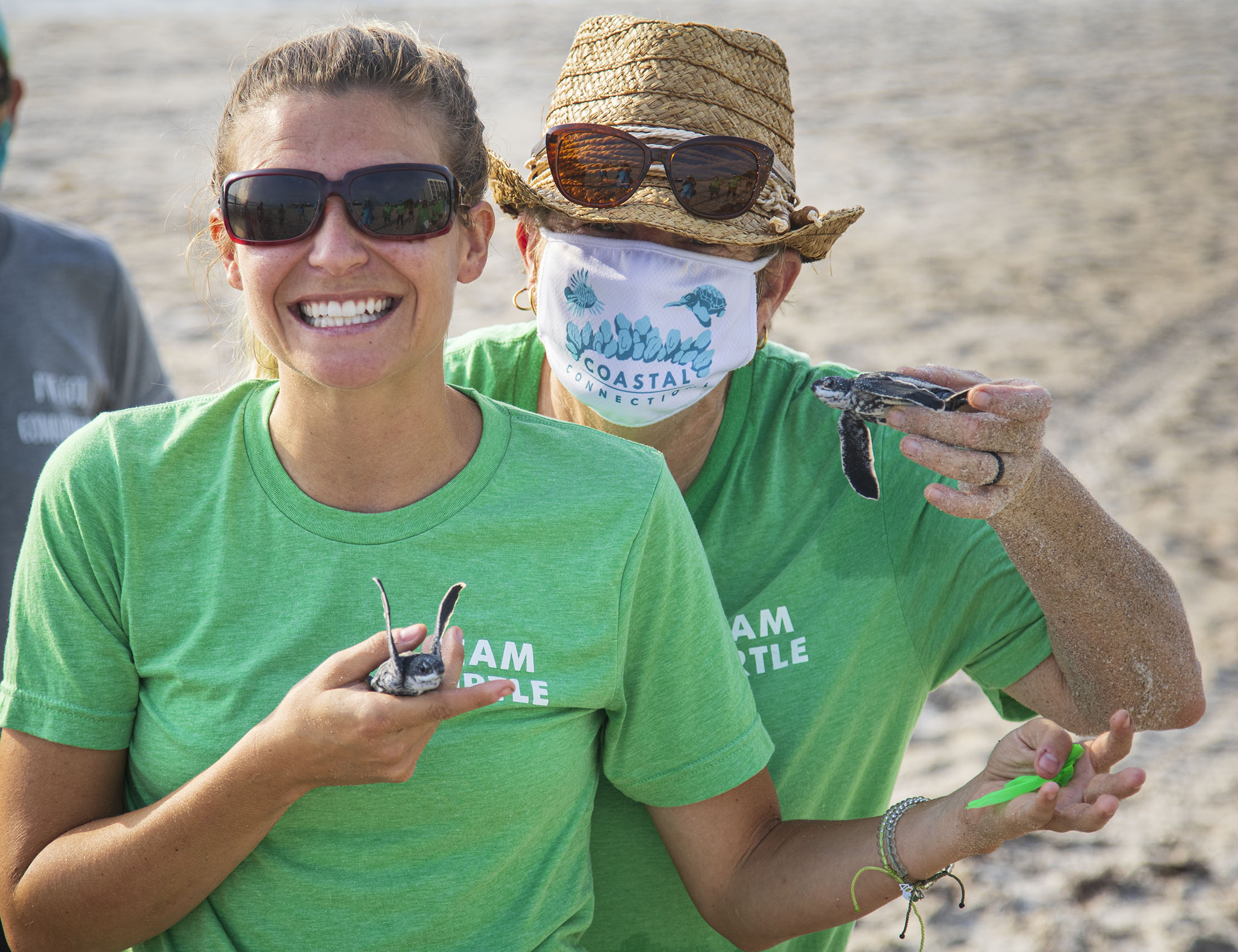 Founding Director Kendra Cope and President Sherri Davis training the CCinc Turtle Team for 2020 Turtle Digs.
Founder's Report
As the sea turtle nesting season draws to a close, I sit here thinking about the numerous hours our volunteer team put into adapting our public events to ensure CDC COVID-19 guidelines were followed and people remained safe and healthy this summer season. I am so thankful for our passionate and motivated team because we made a larger impact this year than ever before. By opening up our Turtle Digs to in-person and online viewers, we counted approximately 10,000 views of our Turtle Dig presentations where we introduce conservation behaviors that save sea turtles including Skipping The Straw, Cleaning Beaches, Turtle Friendly Lighting, and Turtle Safe Seafood.
These astounding statistics only motivate me and our team to continue growing our impact in 2020. As we begin our Annual Drive I ask that you consider making an annual gift that will allow CCinc to continue protecting our 600,000+ sea turtle hatchlings and their necessary coastal habitats.
-- Kendra Cope
Covid-19 Updates: Thank you for your continued support!
There is no doubt that COVID-19 has negatively impacted a variety of businesses and organizations. With CCinc, we simply adapted to new safety protocols and procedures that needed to be implemented to keep every one of our volunteers and visitors safe. All of CC inc volunteers wore masks during any event, social distance signage was made for our Digs and Coastal Cleanups, and RSVPing was mandatory to control for participant spacing.
With your support, we continued to host two more coastal cleanups, conducted daily sea turtle nesting surveys to protect nests, and carried out local charity events to lend a helping hand in our community. Throughout this edition of the Quarterly Connection, you will find updates from our Turtle Digs, Vero Goes Zero, and our new information about our Annual Campaign. We believe all of these programs continue to allow us to carry out our mission to:
Educate. Connect. Protect.
Current number of nests laid on Indian River County beaches. This total is made up of 6,215 Loggerheads,1,120 Greens, and 73 Leatherbacks.
Total pounds of trash removed to date.
The most common items included 1,449 plastic pieces, 833 foam pieces, and 6,065 cigarette butts.
Daily nesting surveys have been conducted so far this year. Volunteers walk a mile of beach starting at Sexton Plaza every morning collecting trash and protecting new nests.
Number of volunteers that make CCinc run smoothly. We are beyond thankful for each and every one of you and hope to see this number continue to increase!
CCinc's Annual Drive- Help Protect 600,000 Hatchlings!
Did you know?
There are only 7 species of sea turtles in the world, and they are all listed as either endangered or threatened. On average, only 1 out of every 1000 hatchlings survives to adulthood. This means the thousands of nesting sea turtles in Indian River County give significant contributions to populations. Approximately 6,000 nests are laid on our beaches annually with that number rising each year because conservation efforts are working. This is GREAT news because sea turtles are keystone species that are responsible for keeping our beaches healthy by feeding the dunes through the mixing of important nutrients between land and sea.
We Are Sea Turtle Protectors!
After a nest is laid, about 100 hatchlings are left to survive all on their own. CCinc ensures sea turtle survival by preventing major obstacles such as plastic debris commonly mistaken as food, artificially bright beaches distracting turtles from the ocean and uninformed development and tourism interfering with successful nest incubation. With your support, CCinc will continue in its efforts to protect sea turtles by actively Keeping Beaches Clean, Building a Sustainable Community, and Increasing Education about Sea Turtles' Contribution to Healthy Coastlines.
Please click the button below to learn how your donation could protect sea turtles and build a sustainable community!
Our Sea Turtle Conservation Initiative
Turtle Digs
In order to safely conduct our Digs this year, we added new COVID-19 regulations and protocols to ensure the health and safety of our attendees and volunteers. With the addition of these guidelines combined with the public live streams, we had a very successful Dig season! In total, had over 30 nests adopted in our Education Zone and conducted 12 public nest excavations. Additionally, we had 8 live hatchlings rescued from nests. We would like to thank Ocean Grill for allowing us to partner with them during this Dig season and to all of our volunteers who assisted with set up and clean up. This event is always our favorite to showcase because of how many people we can educate. With the addition of our live streams, CC inc was able to reach over 10,000 viewers!
Turtle Digs Impact Summary 2020
- Public nest excavations - 12 - Hatchlings saved - 8
- Hatching success average - 97.4 % - Viewer audience - 10,000
Partially Funded By: National Save the Sea Turtle Foundation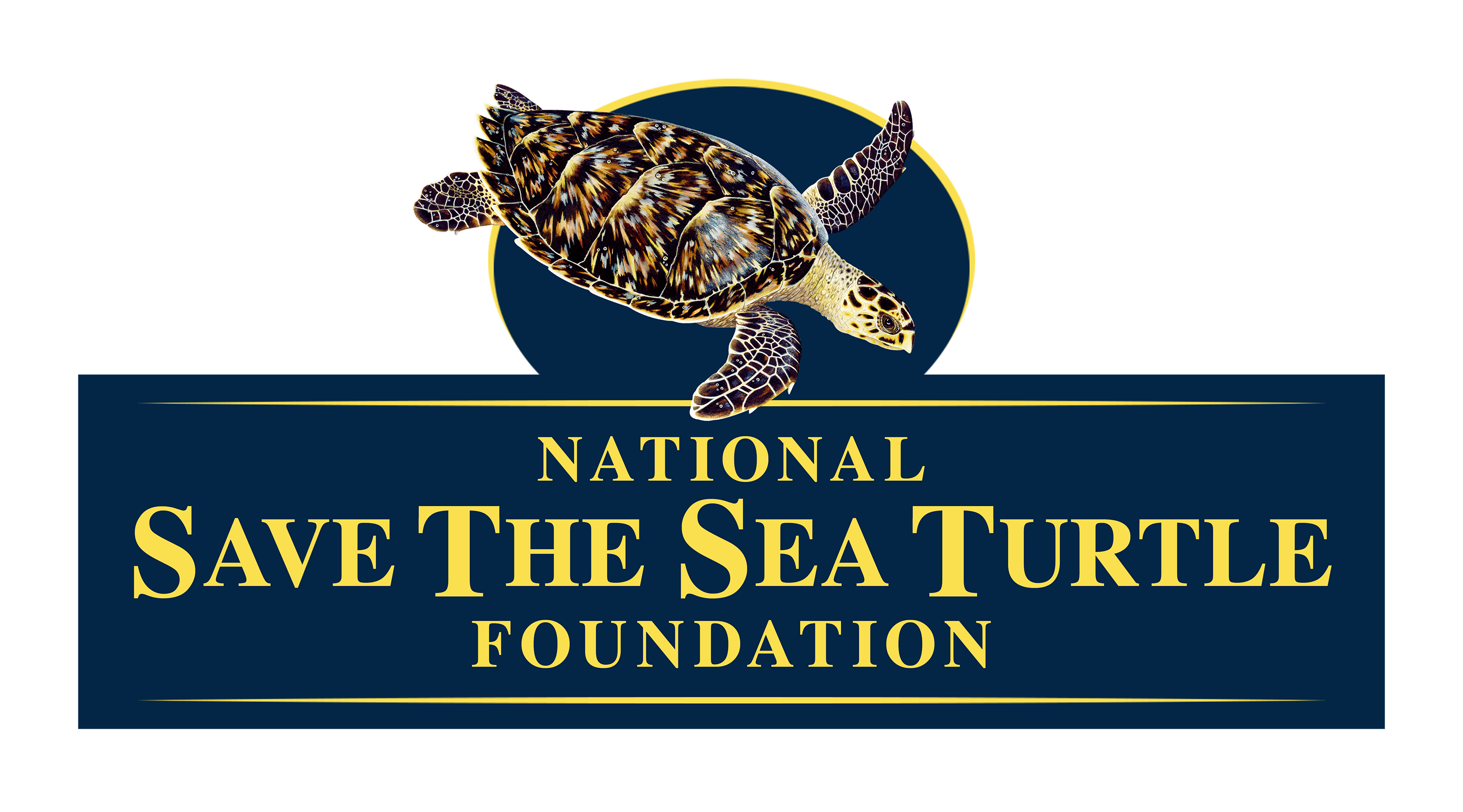 Green Sea Turtle Rescue Story
Called in to Action!
After the conclusion of a Turtle Dig at Sexton Plaza Beach this August, our CCinc volunteers got the call from FWC to respond to and rescue a distressed Green Sea Turtle within the Town of Indian River Shores. Volunteers quickly packed up and headed out to asses the situation. The Green Turtle had nested successfully but got stuck when part of her sand body pit collapsed inward, burying her body. The CCinc team quickly reported responded and, with a little assistance, the Green was able to exit the her pit and travel safely back to the ocean!
CCinc volunteers have already responded to 30 rescues this year! We are responsible for 75% of strandings reported in Indian River County every year. We wouldn't be able to do these rescues without our amazing volunteers. Click the link below if you would be interested in being becoming a volunteer!
*pictured: Barb Grass, Sherri Davis, Lisa Moreland, and Cori McWilliams
*all activities were conducted under FWC-MTP #259.
I see a sea turtle: What do I do?
Is the sea turtle nesting?
Keep white lights off of her and remain a safe distance away.
Nesting females can become disoriented causing them to return to the ocean before nesting completely.
Is the sea turtle injured or distressed?
Call the FWC Hotline : 1-888-404-FWCC(3922).
Is it a sea turtle hatchling?
As tempting as it may be to help a struggling hatchling, please keep a safe distance and do not touch them as it is essential for them to imprint their nest location.
If the hatchling is found away from the ocean or appears distressed, please call the FWC Hotline: 1-888-404-FWCC(3922).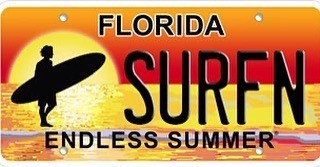 Partially Funded By: Surfing Preservation Foundation
Our Vero Goes Zero Sustainability Initiative
Coastal Cleanups - Big Success
We are pleased to announce CCinc and its supporters have conducted 4 big coastal cleanups these past 3 months! Locations include Humiston Beach, Tracking Station, and Riverside. Overall, we had 93 individuals participate and collect 163lbs of trash! Our new COVID-19 procedures were followed including strong mask recommendations, social distancing, and increased sanitation for popular hand-held items. We are so thankful that everyone was patient with our new rules and we were still able to clean up our waterways, beaches, and community! If you are interested in being a part of our CCinc volunteer base, please click the link above!
Chelsea's Gourmet-Plastic Free Celebration
Coastal Connection's Vero Goes Zero initiative exists to minimize the use of single-use plastics and increase the rate of recycling in Indian River County. Through this program, CCinc provides a 1-month supply of single-use plastic alternative products for Cups, Straws, Containers, Bags, and Utensils to VGZ committed restaurants. Additionally, each business that is part of this program will make a long-term commitment to offering sustainable products after the 1-month pilot period is complete. We are happy to announce that Chelsea's Gourmet is officially the first Vero Goes Vero business! We had an educational celebration outside their market to promote their new sustainable products to the public. We also thank the Surfing's Evolution and Preservation Foundation for supporting this initiative and allowing us to create a sustainable community! Have you visited Chelsea's recently? Please take our valuable customer survey. Your responses will be used to improve sustainability standards in our community. To Take Survey Click Here
PerfectStix - New Partnership
Perfect Stix, LLC is a local Vero Beach company that manufactures and offers a full line of earth-friendly compostable and biodegradable products. They offer a wide variety of customizable wooden cutlery, bagasse containers, paper straws, and palm leaf plate sets. This company's long-term goals directly align with our Vero Goes Zero initiative, and who doesn't love to SUPPORT LOCAL! They will be donating 20% of their local proceeds to Coastal Connections starting in September. So no matter if you are hosting a private dinner party, a big celebration, or manage a local restaurant, please check out Perfect Stix and let them know you want to support CCinc and our coastal wildlife.
Upcoming Events!
September - Volunteer Interest Meeting (TBD)
September - Annual Drive Kickoff
November - 11/7/20 Coastal Cleanup (Oslo Boat Ramp)
**The 2020 Tipsy Turtle 2 Mile Race has officially been canceled due to the safety and health of members in our community. Please mark your calendars for 4/10/2021, as this is our new tentative event date.
Thank you for subscribing to Coastal Connections' Quarterly Connection where will be updating supporters like you every few months on what programs and projects we are working on, areas we may need your assistance in, and successes to celebrate together! Thank you so much for your interest and support for CCinc. We ask that you please share this newsletter with others and encourage them to sign up for regular CCinc updates.
Coastal Connections, Inc.
info@coastal-connections.org
Please Visit Our Partner - Purple Plum Boutique
FEIN: 35-2606320
A COPY OF THE OFFICIAL REGISTRATION AND FINANCIAL INFORMATION MAY BE OBTAINED FROM THE DIVISION OF CONSUMER SERVICES BY CALLING TOLL-FREE (800-435-7352) WITHIN THE STATE. REGISTRATION DOES NOT IMPLY ENDORSEMENT, APPROVAL, OR RECOMMENDATION BY THE STATE.